Easy Appetizer: Spinach Pinwheels
November 10, 2013 in Recipes by Heather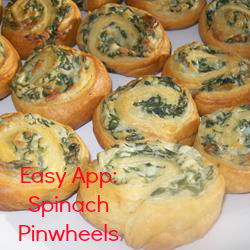 Tried and true…made over and over again and originally found on Allrecipes. This recipe is a crowd pleaser! I love it because it is quick, easy, and cheap- and it is easily adaptable simply by changing out the flavor of spreads that you choose. The recipe usually makes about 30 servings, so increase or decrease as necessary.
Spinach Pinwheels:
Ingredients:
2 (8 ounce) packages refrigerated crescent rolls
1 (7 ounce) package garlic herb cheese spread (or any other flavor you prefer!)
1 (10 ounce) package frozen chopped spinach, thawed and drained
Directions:
1. Preheat oven to 400 degrees.
2. Split crescent dough in half along center perforation. Flatten one rectangle, sealing perforations. Spread with 1/4 of the cheese spread and sprinkle with spinach.
3. Starting with long side, roll dough up, rolling back and forth several times to seal edges. Cut into 3/4 inch slices (about 15 slices per roll). Arrange the slices one inch apart on ungreased cookie sheet. Continue making the crescent roll ups until all of the ingredients are used.
4. Bake for 10 to 12 minutes, until lightly browned. Serve immediately or keep warm on a warming tray.